State National's Partnership With Solutions by Text Is a Secure Way To Reduce Borrower Noise
When was the last time you wrote or received an office memo? Or had stamps handy to mail a letter? Have you dialed the operator to make a phone call lately? Or eavesdropped on a party line? Some of you may have never experienced these "old school" methods of communication — and although each of these had their charms (eavesdropping on your neighbors over a party line was sometimes just as entertaining as watching drama unfold on General Hospital!) you should probably consider yourself lucky that those days are mostly behind us. Communication has evolved to become faster, easier, and far more convenient over the years, and here at State National we are no stranger to the incredible efficiencies technology has gifted us.
Whether business or personal, emails and texting have drastically altered how we connect with each other and share information. 89% of adults check emails daily and 98% of all text messages are read within three minutes! (When was the last time you checked yours?) Both are instant and can be read and responded to at the convenience of the recipient as opposed to interrupting them with a phone call, which many people report causes them a certain amount of anxiety nowadays.
Both email and texting is where it's at these days, and each have their particular strengths. While emails can provide a little more space to respond at leisure, texts create a sense of urgency. Receiving a communication from another channel also helps reassure borrowers of the authenticity and validity of the message by adding another touchpoint communicating what is needed.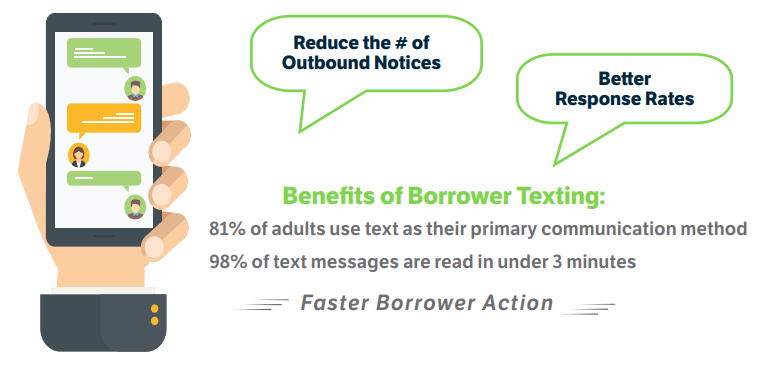 Adding Email Notifications
In 2016, State National implemented email notifications to borrowers as part of the notice cycle. This provided a quick and efficient way for borrowers to respond with their insurance information through the MyLoanInsurance.com website or by replying to the email with their insurance information. On average, we saw 23% of borrowers log into MyLoanInsurance.com from the email. Considering that 2% to 5% is considered a good click-through rate for email, this result was an immediate success.
Next, Text Messages
Then, in 2019, State National added text messaging to the notice cadence to further increase ease and convenience for borrowers while also instilling an urgency to submit their insurance. Like our email notifications, these text messages have a secure link into the MyLoanInsurance.com website a recipient can effortlessly access from their smartphone — which, let's be honest, is always inches from their fingertips at any given moment.
So far, we are seeing an average of 18% of borrowers log into MyLoanInsurance.com from a text they've received and we expect that number to continue to climb. Overall, of those who log into MyLoanInsurance.com from the email or text, over 70% are submitting their insurance!
Borrowers also have the option to simply reply to the text with a photo of their information, making this a true two-way interactive text program.
Of course, scams and phishing are unfortunately a reality and very prevalent in the world of emails and texting and, rightly so, have everyone on high alert. Let's face it, receiving a text asking you to provide your insurance information may cause some hesitation, but then when you receive an email a few days later, you start to think it may be legit. Then you receive the notice in the mail. OK, the recipient thinks, now I know this is my financial institution trying to get ahold of me to get this information.
We want your borrowers to feel at ease that their information is protected. That's why we include your financial institution's logos on the emails and on the secure MyLoanInsurance.com website. If you're a client of State National or thinking of becoming one, putting the MyLoanInsurance.com website on your loan documents or even on your website can help reinforce the authenticity with your borrowers.
The Proof Is in the Results
So how does all this translate to your CPI program? Well, we have found that clients who utilize our email and texting programs are experiencing an average penetration that is 34% less than before they added these enhancements to their program. In addition, the "flat cancel" rate (the percentage of certificate placements resulting in a full refund) has decreased as much as 11%. That means fewer unnecessary certificates placed and refunds processed — which translates to less work for your staff.
The Difference Is in the Details
State National's texting and email programs are completely free of charge and State National does all the heavy lifting for you. You simply provide us the email addresses and phone numbers associated with the loans and we'll take it from there — only reaching out to borrowers we haven't yet received insurance information from.
Before the first text ever goes out, an "OPT OUT" option text is sent, giving recipients the choice whether they would like to receive texts or not. And should one of your borrowers decide later that they no longer want texts, they can easily reply STOP and they'll immediately be opted out, with their opt-out immediately reported back to your financial institution.
We've worked diligently with outside legal counsel and partnered with Solutions by Text, a compliance-first provider of enterprise texting solutions with a proven track record with the FCC, TCPA, FDCPA, CFPB, CTIA, and MMA to ensure that our program is fully compliant. And since there is no advertising of a product or service, our emails are exempt from the CAN-SPAM Act. We continue to closely monitor any and all regulations surrounding these programs so you can keep peace of mind.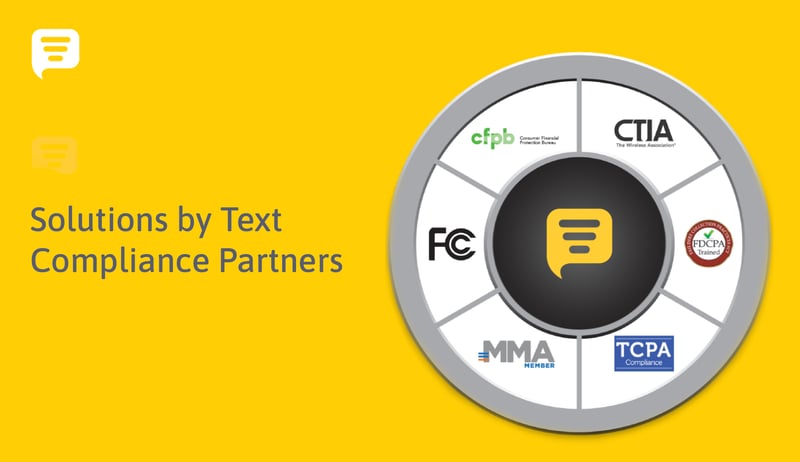 There's no doubt that the borrowers we serve are enjoying the convenience — and responding to these more modern ways of both receiving and sharing information. Who knows what the future holds for even better communication techniques? Whatever it is, you can count on State National to be ahead of the pack in offering it to our clients!