"How likely is it that you would recommend _______ to a friend or colleague?" How the answer to this question translates to customer experience and loyalty.
We've all seen this question before – whether XYZ is your local coffee shop, that place where you ordered a new sweater online, or even the big names like Apple or Amazon.
So What's the Deal?
This now-ubiquitous question was posed as a baseline way for companies to measure customer experience and loyalty. When responses are calculated, the resulting data translates to what is called the Net Promoter Score (NPS), which is considered the gold standard of customer experience metrics. Consider this: According to research from Nielsen, 83% of respondents said they trust recommendations from family and friends more than any other form of advertising. (Source: Hubspot)
A respondent who gives XYZ a score of 9 or 10 is considered a Promoter – a loyal enthusiast who will keep buying and refer others, fueling growth. Those who answer with a 7 or 8 are considered Passive – they are satisfied with XYZ but vulnerable to competitive offerings. And people who answer in the 0 – 6 range are Detractors. They are unhappy customers who can damage a company's brand and impede growth through negative word-of-mouth.
A company's NPS is calculated by subtracting the percentage of Detractors from the percentage of Promoters.

Score Considerations
Okay, so you've got your NPS score – now what?
First you've got to remember that NPS scoring is different from what you might be used to seeing – it's not like a grade, where 0 is the worst and 100 is the best. With NPS, the worst score a company can get is -100 and the best is +100. Typically anything higher than 0 is considered good, +50 is excellent, and +70 is world-class.
But you can't necessarily rank a company's success just by looking at their absolute NPS, without considering their relative performance within the industry. Let's look at the airline and department store industries. Is it any surprise that airlines overall score low, with an average NPS coming in at +27? An airline that achieves a score of +45 would actually be doing relatively well in customer satisfaction. But in a segment where average overall scores tend to be in the +50s, like the department store segment, that same +45 isn't quite so impressive.
Average NPS by Industry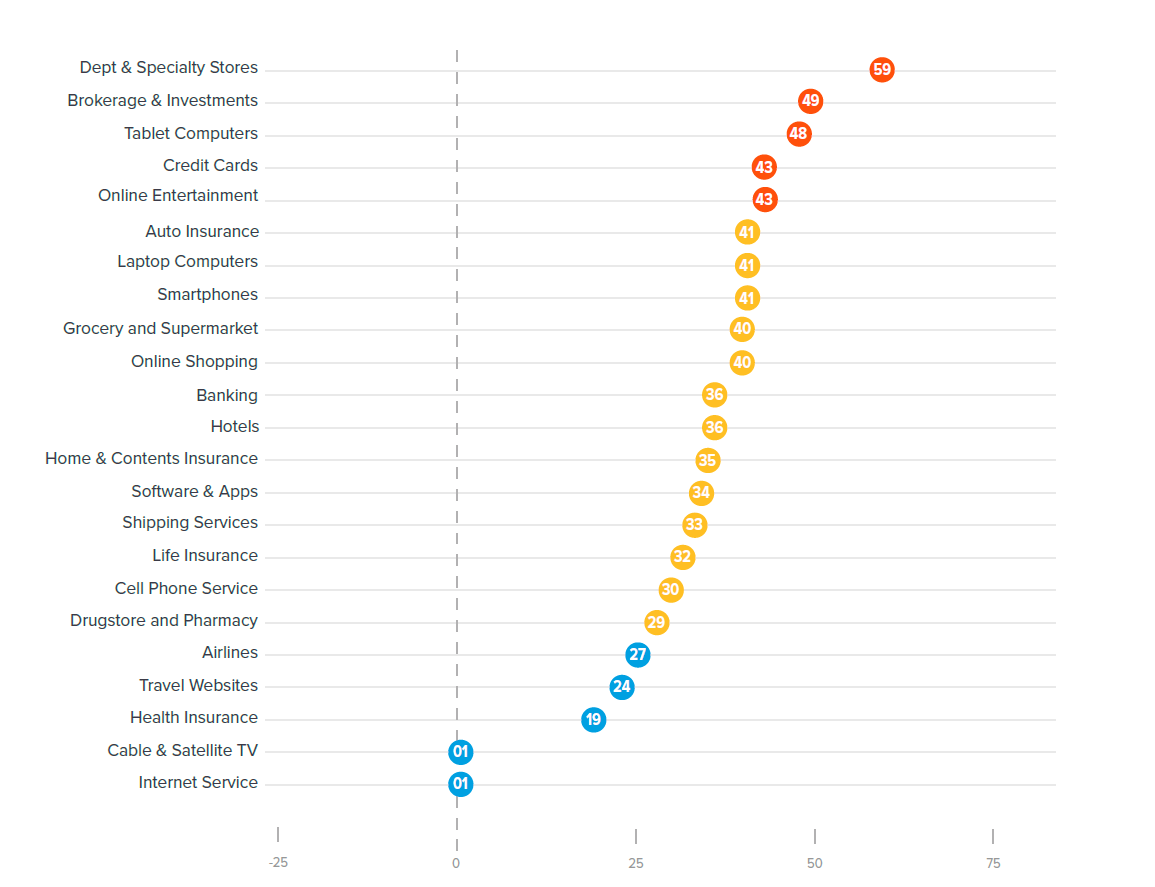 State National Scores Soar
State National introduced the NPS question on our Annual Survey of Service Quality in 2017. Our first-ever NPS score was +68, and we have surpassed scores considered "excellent" ever since. Our NPS continued to rise and our most recent published results boast scores in the +80s! Not only do these scores reflect world-class service, they are all well above the insurance industry average of +41.
At State National we value this metric immensely because it lets us know our customers believe we deliver on the service levels we promise them. But we don't stop there – we conduct various surveys throughout the customer journey, always looking for opportunities to innovate and improve. We even check in with our customers' customers, because we know how important those relationships are. But that's a subject for another post.
"Knowing that the vast majority of our client business partners feel so positively about State National and are willing to recommend us as a trusted resource is something we deeply appreciate. The fact that our NPS score continues to rise is a visible sign of how seriously everyone in the company takes our commitment to providing the very best service to our client partners every single day."

Trace Ledbetter, Executive Vice President, Lender Services
So the next time you see that popular question — "How likely are you to recommend XYZ?" — you may want to give your answer a little extra thought. Many companies make major business decisions based on their customers' responses — which means that your answer may have more power than you think.