Break out of a rut with creative solutions for getting back into flow
You probably know Rusty. Rusty was very knowledgeable at his job and was highly motivated — a great employee and asset to his company. Then Rusty was required to stay in the house for months with little interaction or engagement with his coworkers and customers, and he started to lose some steam. Then — hooray! — his world started opening back up, and he was excited to pick back up where he left off.
And then … once again Rusty found many of his in-person meetings canceled and his clients' offices off limits. With that momentum slowdown, in addition to the normal post-holiday acclimation period, Rusty isn't feeling as on top of his game as he once was. In fact, he feels … well, a bit Rusty.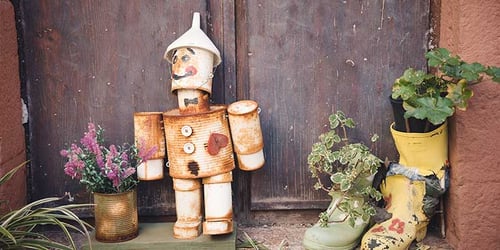 If you look in the mirror sometimes and see Rusty, here are some ideas to try:
Schedule one hour a week for learning. Take a course through your employer, sign up for training through LinkedIn or organizations in your field and industry, or check out Coursera, Lynda.com, Udemy, or similar inexpensive options.

Review industry websites and publications, watch a Ted Talk or other video, read a business or self-improvement book, or listen to a podcast or audiobook related to your field and/or something you want to know more about.

Schedule a 30-minute meeting with your manager or a peer and talk about one or two business-related topics. Make sure this is understood to be a safe zone for both. It's about growth and development.

Ask for feedback, and receive that feedback openly and honestly.

Reevaluate your workspace and remove any distractions that may be preventing you from fully entering flow. Example: Put your phone on focus mode. Set aside uninterrupted blocks of time on your calendar to complete projects. Close out of your email when you are trying to focus on an important task.

When you are feeling stuck and a bit Rusty, take notes. Writing down your questions will allow you to spend the time to gain the information you need later.

Help others with their questions — not only with the answer, but also by explaining the "why" behind it. A full explanation will not only embed the information in that person so they most likely won't have to ask again, but it will also help cement the knowledge even more solidly in your own mind. Plus, helping another person in any way is always one of the best things you can do to get unstuck!

Get your creative juices flowing with art, music, journaling, meditation, a mindful walk, even dancing — anything that gets you out of your regular day-to-day rut.

Finally, be sure to take care of yourself by getting enough sleep, eating as healthily as you can, staying hydrated, moving your body, taking physical and mental breaks throughout the day, and whatever else makes you feel grounded, strong, and motivated.
We all have a "Rustyness" in us from time to time — but we can overcome, get back out there, and grow and progress even further than we ever have before!
So what are you waiting for -- schedule that training or tackle the project you've been putting off now. Kick-off 2022 with a growth mindset and get yourself "un-Rusted"!